Home: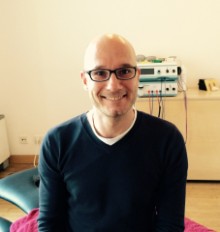 Welcome to my Homepage and let me say a few words about Physiotherapy!
The physical therapy involves the interaction between physiotherapist, patients/clients. We are healthcare professionals who diagnose and treat individuals of all ages, from newborns to the very oldest, who have medical problems or other health-related conditions, illnesses, or injuries that limit their abilities to move and perform functional activities as well as activities of daily lives. We use the individual's history and physical examination to arrive at a diagnosis and establish a treatment plan.
The treatment plan includes intervention such as, manual therapy, kinesio taping, massages, developing fitness or wellness-oriented programs. In addition, we work with individuals to prevent the loss of mobility before it occurs. Functional movement is central to what it means to be healthy.
I use a wide range of techniques, including:
- Physical Therapy
- Rehabilitation of Sports injuries
- Classical Massage Therapy
- Office Ergonomy
- Electrotherapy
A full list can be found under Services.